Most Lagosians use the popular commercial buses (danfo) as a form of transport.  They are arguably the most popular way to get around in Lagos.
We have gotten used to the loud sounds and large amounts of exhaust fumes emitted by these buses as they go about their daily business, as well as the unruly mannerisms of the people who operate them. 
We know how the conductors are primed to insult whoever boards the bus without "change" so we prepare accordingly.
We wait with sighs when the danfo driver parks wherever he likes; blocking the middle of the road when he sees a potential passenger. These are the things that come with boarding a danfo.
There are certain kinds of people you can expect to meet when you board these buses as well.
Here are a few of them:
This person's ministry is exclusively of the public transportation variety. He doesn't start the preaching until the doors are closed and the bus is moving, inevitably making you feel trapped as you listen to his iteration of the fire and brimstone shtick. Some of them end their sermon with a plea for donations to their ministry.
This person is all about the food. He probably had a stressful day at work and is very hungry. He enters the bus eating a slice of fruit from a nylon, and continues eating throughout the journey, purchasing gala and any other thing available for sale in the inevitable traffic jam.
The person without change 
Even though the conductor repeatedly announces that everyone should enter with their change, this person does "strong head" and enters with a one thousand naira note. He inevitably gets into a screaming match with the conductor.
The mother with many children who only pays for one seat. 
This woman boards the bus with all her children and only pays for one seat, making everyone around her uncomfortable. She usually does some complicated arrangement for the children, involving almost making them stand on each other's heads until the person beside her takes pity on her and offers to handle one of the children for the duration of the ride.
These are usually two or more friends that enter the bus gisting and laughing. They continue with their lively conversation until they get down from the bus.
No matter how short the journey is, this person keeps nodding off and just generally seems very exhausted.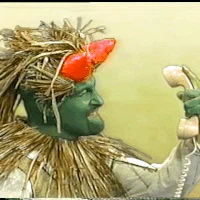 This person is always on the phone throughout the journey, always shouting very loudly so that everyone on the bus can hear them instructing the person on the other end to "boil one derica of rice before I get home now."
Did we leave any one out? Which one are you? share with us in the comments.
*featured image via ConnectNigeria
---